I'm back!!! From an unnecessary, prolonged blogging vacation. Whatever little I did read of the LAMMY's was through a friend's tiny Blackberry screen and it all sounds very exciting but I'm very out of loop. I probably will take part in it next year when I have a clue of what's going on.
In the last 25 days of internet-less existence I managed to see 51 films, some for the very first time...for example the absolutely wonderful musical Once, whose soundtrack I had downloaded three years ago, but kept on postponing the film itself...blunder much? I must also say that what I had imagined the songs to be like in the film was pretty much the furthest thing from the real deal. And the Falling Slowly sequence was really to die for. When it was ending, I knew this film will ruin my life forever like Before Sunset did, but I loved it loads nonetheless.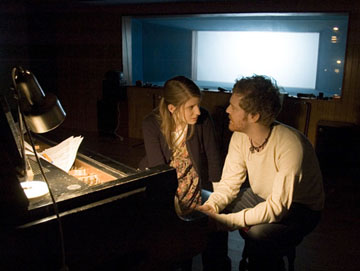 I saw Chaplin's City Lights after about 12-15 years...it really is magical. One of the best things that I have heard about it is from Bernardo Bertolucci's The Dreamers (I went through a The Dreamers-phase too...again), when Theo says "You remember the last shot of City Lights? He looks at the flower girl, she looks at him and don't forget, she'd been blind...so she was seeing him for the very first time. It's as if, through her eyes,

we also see him for the very first time.

Charlie Chaplin, Charlot, the most famous man in the world... and it's as if we've never really seen him before."
A certain TV channel was showing the Die Hard films, The Day After Tomorrow and Moulin Rouge practically on a loop, so I saw a lot of that. Similarly another channel showed Rob Marshall's Memoirs of a Geisha some five times, and I watched it everytime as I cannot help myself around that film, it's just so enchanting.
I finally finished watching A Streetcar Named Desire...what a film eh?! I'm so convinced I'm gonna become Blanche DuBois, it's scary. Also the scene between Marlon Brando's Stanley and Kim Hunter's Stella, when he calls out to her and she walks down the spiral staircase to fall into his embrace has to be one of the most erotic scenes I have ever seen in a film.
One of the most startling films I saw for the first time was P.T. Anderson's Magnolia. I haven't ever watched any film of his completely, and like Once, I keep postponing downloading There Will Be Blood. But Magnolia was something else... it really scared me for some reason. And the plot twist, was the weirdest one I have ever seen. I am still trying to get my head around it in all honesty...I've never been perplexed by a singular scene like this.
The two films I saw in the theatre, yet, were Rio and Scream 4. I loved Rio... it was very colourful, very cute and I just love Jesse Eisenberg. Scream 4 was fun... really loved Courtney Cox and Emma Roberts. I thought there were some great one-liners there, best being "First rule of remakes, don't fuck with the originals!" I saw Scream again after that...god I love Matthew Lillard!!
The time of summer blockbusters is upon us now...I will be watching Thor soon. Hopefully I like it enough to review it (I doubt it). Also going to my Youtube subscriptions I saw various films have released their trailers like Transformers: Dark of the Moon (oh so bad), The Help (Gotta love Emma Stone!), 30 Minutes or Less (As much as I love Jesse E., it looks little bad) and of course this...
I am an unapologetic, rather proud Potterphile/maniac and my world has officially begun to revolve around this. I do think this the trailer could have been a little better...like why would you show Fred dying? I was hoping the films would change that and kill Ginny instead...but to say that I am SUPER-DUPER EXCITED and at the same time facing a nervous breakdown to think this could ever end...would be a gross understatement.
S0 I think now I am up-to-date. Let the blogging begin.